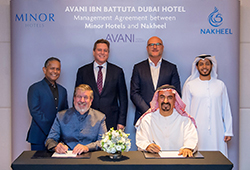 Nakheel and Minor Hotels sign management agreement for new AVANI hotel in Dubai
يناير 23 , عام 2017
Developer steps up hospitality expansion with 372-room hotel at Ibn Battuta Mall
Dubai master developer Nakheel and Thailand's Minor Hotels have signed a management agreement for a new 372-room hotel to be constructed at Ibn Battuta Mall.
Under the agreement, signed in Bangkok by Nakheel Chairman Ali Rashid Lootah and William E. Heinecke, Founder, Chairman and CEO of Minor International PCL, the hotel will be managed under the vibrant AVANI Hotels & Resorts brand, which offers guests relaxed comfort and contemporary style in city and resort destinations.
The 18-storey hotel – for which a construction contract will be awarded in February this year – is the second Nakheel hotel at Ibn Battuta and one of 16 in the developer's hospitality project portfolio. Adjacent to the recently-opened Ibn Battuta Metro Link, which is directly connected to the mall, the hotel will feature a pool, spa, gym, all day dining restaurant, coffee shop and parking.
Minor Hotels' portfolio currently comprises more than 20,000 rooms across 156 hotels, resorts and serviced suites in 24 countries under the Anantara, AVANI, PER AQUUM, Oaks, Tivoli, Elewana, Four Seasons, Marriott, St Regis, Radisson Blu and Minor International brands.
Nakheel Chairman Ali Rashid Lootah said: "Today marks yet another key milestone in our commitment to enhancing and diversifying Dubai's hotel offering by bringing new, reputable international hospitality brands to the emirate in line with the Government's vision. We are delighted to welcome Minor and the AVANI brand to Ibn Battuta Mall, which, with over 20 million visitors a year, is one of Dubai's leading tourist destinations."
William E. Heinecke commented: "We are very pleased to be partnering with Nakheel for the new AVANI hotel at Ibn Battuta Mall in Dubai. Having launched our upscale AVANI brand in the region last year, we are delighted to continue the brand's expansion in the UAE with this new hotel and we are confident that the brand will prove successful in this key market."
AVANI Ibn Battuta is the second Nakheel hotel at the mall. The first, a 372-room Premier Inn, opened last year. The hotels are part of Nakheel's ongoing expansion at Ibn Battuta Mall, the first phase of which was completed last year with the opening of a 300,000 sq ft extension and 210 metre link to the Dubai Metro. The mall currently has 400 shops, restaurants and entertainment outlets across 1.5 million sq ft of retail space, with phase two of the expansion under way.
Nakheel has more than 5,300 rooms across a diverse range of hospitality projects. Two are already complete and operational, with the rest at various stages of construction and development.
Nakheel's hotel portfolio includes:
Ibn Battuta Mall: AVANI-branded hotel with 372 rooms adjacent to the new Ibn Battuta Mall/Metro link. Management agreement signed.
Ibn Battuta Mall: Premier Inn-operated hotel with 372 rooms directly linked to the mall. Opened October 2016.
Dragon Mart 2: ibis Styles hotel with 251 rooms, directly linked to Dragon Mart. Opened February 2016.
Dragon City: Premier Inn-operated hotel with around 320 rooms, forming part of the Nakheel's Dragon City expansion. Management agreement signed.
Palm Jumeirah: The Palm Tower, a 289-room luxury hotel, to be managed by Starwood Hotels & Resorts under the St Regis brand, occupying the first 18 floors of Nakheel's 52-storey hotel and residential tower. Under construction.
Palm Jumeirah: PALM 360, luxury twin-tower hotel and residential complex with 12,000 sq ft, branded penthouses and apartments. Upcoming.
Jumeirah Village Triangle: 251-room hotel to be managed by Hilton under its DoubleTree by Hilton brand. Letter of Intent signed.
Deira Islands: joint venture with Spain's RIU Hotels & Resorts for a 750-room, all-inclusive beachfront resort. Agreement signed.
Deira Islands: joint venture with Centara Hotels & Resorts, also from Thailand, for a 550-room, AED500 million resort and waterpark. Agreement signed.
Other joint ventures and management agreements under discussion.