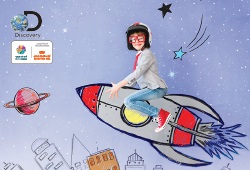 Explore the Wonders of Outer Space at Ibn Battuta Mall this Eid Al Adha and Back to School Season
Aug 21-Sep 10, 2018
World's biggest themed mall celebrates 60 years of space exploration with Discovery Channel exhibition
Ibn Battuta Mall is hosting an out-of-this-world range of space-themed educational activities – 3-D outer space simulation, a virtual reality capsule, a Mars Rover replica, a miniature space station, a 3-D space photo wall and more – to mark Eid Al Adha and the Back to School season.
Honouring 60 years of space exploration, Ibn Battuta Mall is hosting a Discovery Channel exhibition at China Court featuring the timeline of historic space exploration and celebrating the most ground-breaking achievements in space history. The exhibition is open daily from the first day of Eid until 10 September from 2 pm to 10 pm.
Visitors of all ages can enjoy one of the most fun activities in Dubai and learn about the universe, and explore fun, scientific and educational live daily shows at China Court. Shows include the Centripetal Dish, an experiment that showcases the gravity-defying properties of water; the Chilly Ice – Dry Ice Comet, which captures the magic of solid carbon dioxide; the Hover Craft, where kids can build and fly a miniature hovercraft; the Carbon Ice Clouds experiment, which gives the sensation of floating in air; and the Rocket Science where children can discover the characteristics of outer space. Timings are 4.30 pm, 6 pm, and 7.30 pm.
There will also be a 'Lost in Music' roaming parade daily from 22 August to 25 August across Ibn Battuta Mall. Timings are 4 pm, 5 pm, 7 pm, and 9 pm. Modhesh, the much-loved mascot of Dubai Summer Surprises, is also visiting Ibn Battuta Mall on 25 August to add to the Eid festivities. Timings are 5.30 pm, 7.30 pm, 9.30 pm, and 10.30 pm.
The 3-D outer space experience will delight visitors with multiple space models and a low gravity simulator, while the 3D photo wall will help capture fun images against a life-sized astronaut suit. A virtual reality capsule will transport visitors to outer space and give them a taste of what it's like to walk on the moon.
A special Mars Rover dome will simulate how astronauts perform simple tasks in outer space, while a magnetic board with a background of Mars will be available for children to build their very own version of home on the red planet.
In addition to these kids' activities and entertainment, a miniature space station will be created as an educational hub where visitors can learn the ins and outs of a space station, while an arts and crafts zone will teach children concepts like time and space through interactive games.
Mark your calendars and don't miss one of the most educational things to do in Dubai with your kids and the whole family.