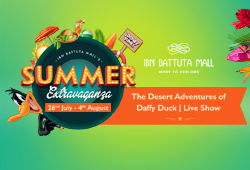 Join Daffy Duck in His Adventure at Ibn Battuta Mall this DSS
Jul 26-Aug 04, 2018
Ibn Battuta Mall is bringing another one internationally-acclaimed kids' live show to the Middle East for the first time as part of an exciting line-up of live entertainment for Dubai Summer Surprises (DSS) 2018.
The Desert Adventures of Daffy Duck, in which the international explorer crosses the Arabian Desert in search of lost relics, from 26 July to 4 August at China Court every 5 pm, 6 pm and 7:45 pm.
Visit Ibn Battuta Mall for more fun activities for kids this summer!