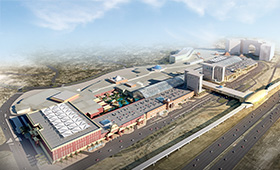 IBM EXPANSION
Ibn Battuta Mall, the world's largest themed mall, will transform into a mega retail, dining and leisure destination spanning seven million sq. ft. and featuring more than 1,000 shops and attractions in total.
With more than 20 million visitors a year, Ibn Battuta Mall is already one of Dubai's 'must-see' destinations. The extension will bring a new shopping experience to Ibn Battuta Mall, enhancing the existing offering to reflect increasing demand.
Phase One
In 2016, a 300,000 square foot extension added 60 new shops, restaurants, cafés and services to Ibn Battuta Mall, bringing the total number of outlets to nearly 400. Among the new stores are Decathlon, United Furniture, Marks & Spencer, Under Armour, Iconic, Superdry, Jashanmal and Paul, as well as expansions to Homes R Us, which now spans two levels, and Paris Gallery.
A new 372-room Premier Inn is now linked to Ibn Battuta Mall as well as Ibn Battuta Metro station.
The opening of the two-storey, 210 metre mall-metro link marked the completion of Phase One of the expansion. Dubai Metro and bus users can now directly access the mall and its 400 shops, restaurants and attractions. The link features 90 new retail and dining outlets including a new food court – the second at Ibn Battuta Mall - with around 20 restaurants.
Phase Two
A 4.7 million sq ft expansion is currently underway and features a one million square foot mall with a glass-covered courtyard, a second hotel, a new cinema complex as well as a multi-storey car park.