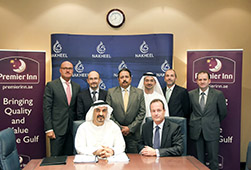 Dubai-based master developer Nakheel has signed a management agreement with UK-based Premier Inn for its new, 372-room hotel at Ibn Battuta Mall, the largest themed shopping mall in the world.
The hotel will form part of Nakheel's 28,000 square metre expansion of the Ibn Battuta complex. Premier Inn at Ibn Battuta Mall will have a restaurant, bar, Costa coffee shop, swimming pool and gym, and will be directly linked by a pedestrian bridge to the Dubai Metro station and to the mall. It is scheduled to open in 2016.
Set on a 521,000 square metre site, Ibn Battuta Mall currently has 270 shops, 50 restaurants and a 21-screen cinema. Themed around the travels of renowned 14th century Arabian explorer Ibn Battuta, the mall has six individually-designed zones named after and featuring architecture reflecting the most influential places he visited. The expansion will add another 150 shops to the existing complex.
Nakheel is planning nine hotels across Dubai over the next five years. Last month, the developer confirmed that Accor will manage its 250-room Dragon Mart Hotel, currently under construction and due to open this year. In February, Nakheel launched more than 500 luxury serviced apartments at The Palm Tower, its 50-storey, five star hotel and residential complex on Palm Jumeirah. Nakheel is also planning hotels at Deira Islands and International City.