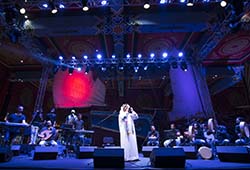 Ibn Battuta Mall reports record National Day footfall with over 213,000 visitors on holiday weekend
Dec 06, 2016
Year-on-year figures up 50 per cent at world's biggest themed mall
Ibn Battuta Mall in Dubai drew the biggest UAE National Day crowds in its history last weekend, with more than 213,000 visitors during the three-day holiday.
The world's largest themed mall welcomed 50 per cent more visitors compared to the National Day holiday weekend in 2015, according to developer Nakheel.
Omar Khoory, Director of Nakheel Malls said: "Ibn Battuta has just celebrated one of its busiest weekends since opening in 2005. Our impressive line-up of live National Day events and attractions combined with the newly-opened mall extension and Dubai Metro link led to record-breaking figures that further cement Ibn Battuta Mall's position as one of Dubai's leading, increasingly popular retail and leisure destinations."
Ibn Battuta's National Day entertainment included a UAE heritage exhibition covering the history and traditions of the country's seven emirates plus a live concert by Emirati singer Hamad Al Amri.
In May this year, a 300,000 sq ft extension with 60 new shops and restaurants opened for business, and last month another 90 outlets came on board with the opening of a two-storey link connecting the mall with Ibn Battuta Metro station. The mall now boasts almost 500 shops, restaurants, cafes and entertainment outlets, with more on the way under further expansion plans.