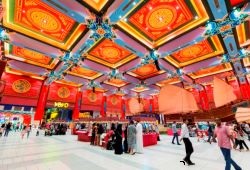 Ibn Battuta Mall is attracting more visitors this Ramadan compared to the same time last year, with daily footfall up 25 per cent on average, owner and operator Nakheel said today.
The mall is currently welcoming up to 60,000 people on its busiest days, compared to around 48,000 during Ramadan 2014.
Nakheel said that Ibn Battuta Mall's Ramadan Market, extensive Iftar offerings and easier road access to the mall have all helped to boost visitor figures.
The Ramadan Market is located at Ibn Battuta's bustling China Court area, home to many of the mall's 50 cafes and restaurants offering a diverse range of Iftar options. Open daily from 10am to 1am, the market features 18 kiosks with traditional Arabic items including food, perfume, clothes, henna and jewellery.
Earlier this year, a new road opened linking Ibn Battuta directly to Jumeirah Lakes Towers, meaning shorter journeys and easier access to the mall.
Ibn Battuta Mall is also gearing up for Eid Al Fitr celebrations later this month. Among the entertainment on offer will be live, daily performances of The Magical Box Ballerina, a modern twist on classic ballet.
Already the world's largest themed shopping mall with more than 300 shops, Ibn Battuta is being expanded to create a giant retail and entertainment complex with over 1,000 shops, two multi-screen cinemas and a huge courtyard with a retractable roof that can be opened in Dubai's winter months.