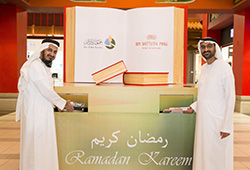 Nakheel and Dar Al Ber Society launch Ramadan donation scheme at Ibn Battuta Mall
Jun 08, 2016
Nakheel has teamed up with Dubai's Dar Al Ber Society to bring a Ramadan donation scheme to Ibn Battuta Mall.
The company has set up giant boxes at Ibn Battuta's China and Tunisia Courts to encourage visitors to donate unwanted books, shoes, clothes and money during the Holy Month.First to take part in the event were Omar Khoory, Director of Nakheel Malls and Hisham Al Zahrani, Deputy Director of Dar Al Ber Society's Social Service Sector, who donated books at the launch this week. Omar Khoory said: "Ramadan is a time for giving. We are proud to bring this initiative to our flagship mall, and hope our tenants and customers will join us in helping those less fortunate than ourselves. Hisham Al Zahrani added: "We are delighted to work with Nakheel and Ibn Battuta Mall on this initiative, which supports our own mission of helping people in need through humanitarian assistance."
Collected items will be distributed to people in need across the UAE.
Ibn Battuta Mall's Ramadan opening hours are 10am to 1am daily with restaurants staying open until 2am.