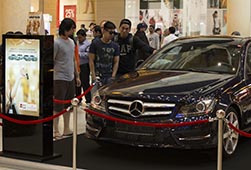 Nakheel motors ahead for DSF with AED1.1 million worth of new cars to be won
Jan 06, 2016
Mercedes-Benzes and Jeep Wranglers up for grabs every week at Ibn Battuta Mall and Dragon Mart during shopping festival
Eight brand new cars worth more than AED1.1 million are up for grabs at Nakheel's biggest shopping malls during Dubai Shopping Festival, with four Mercedes-Benzes to be won at Ibn Battuta Mall and four Jeep Wranglers at Dragon Mart.
Customers who spend AED250 at Ibn Battuta and AED200 at Dragon Mart can enter the prize draw, in which a new car will be won at both malls every week throughout the month-long DSF.
With the first prize draws taking place on Sunday, 10 January, Nakheel is gearing up for increase in shoppers at both Ibn Battuta and Dragon Mart this weekend, with half a million people expected. Between them, the malls typically attract around 400,000 people at weekends, with the figure rising by around 25 per cent during festivals and special events.
Omar Khoory, Director, Nakheel Retail, said: "Nakheel is proud to support the 2016 Dubai Shopping Festival, and, for the first time, to extend our strategic partnership to include our growing Dragon Mart complex as well as our flagship project, Ibn Battuta Mall.
"DSF marks the start of Dubai's annual line up of retail events and we look forward to welcoming hundreds of thousands of visitors to Dragon Mart and Ibn Battuta Mall, where we are laying on a range of promotions and activities, including our AED1.1 million car giveaway.
"The recently opened Dragon Mart 2 has added a new dimension to our world-famous Dragon Mart development, with another 1.1 million square feet of shopping, dining and entertainment space and 4,500 extra parking spaces. DSF is the ideal opportunity to promote this new destination development and to enhance Nakheel's position in the retail sector."