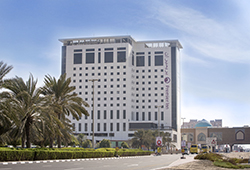 Nakheel's AED3 billion hospitality expansion reaches new milestone as first hotel at Ibn Battuta Mall opens for business
Oct 09, 2016
372-room Premier Inn is one of two new hotels at world-famous retail hub.
The first of two Nakheel hotels at Ibn Battuta Mall in Dubai is now open, marking another major milestone in the developer's AED3 billion hospitality expansion programme.
The 372-room hotel, managed by Premier Inn Hotels LLC, was inaugurated today (Sunday) at a ceremony led by Nakheel Chairman Ali Rashid Lootah and Adam Nicholls, Managing Director of Premier Inn Hotels LLC. It is the second in a diverse range of 14 Dubai hotels by Nakheel and one of two at the world-famous Ibn Battuta Mall, which is currently undergoing an AED700 million expansion. Nakheel's first hotel, at Dragon Mart, opened earlier this year.
Premier Inn Dubai Ibn Battuta is directly connected to both the mall and the Ibn Battuta Metro station. Hotel facilities include an all-day restaurant, Costa coffee shop, swimming pool, gym and business centre with meeting and conference rooms. Guests can also enjoy free, 24-hour Wi-Fi access.
Nakheel Chairman Ali Rashid Lootah said: "Our huge hotel expansion is rapidly gathering pace, and I am delighted to declare Premier Inn Dubai Ibn Battuta officially open and ready for business. This is one of 14 projects in our hotel pipeline that will bring more than 5,200 new hotel rooms to Dubai by 2020, which in turn will contribute significantly to realising the Government's tourism vision. I am delighted to partner with Premier Inn – a globally-renowned operator with a solid track record – for our first hotel at Ibn Battuta, and immensely proud of the teams who have worked to deliver it on schedule."
Adam Nicholls, Managing Director of Premier Inn Hotels LLC, added: "Our new home at Ibn Battuta represents Premier Inn LLC's seventh location in the UAE. We expect this hotel to become a popular destination for residents in and around the local community as well as the first choice for business travel and families visiting Dubai."
Premier Inn is also the operating partner for Nakheel's second hotel at Dragon Mart, due to open in 2018.
Ibn Battuta Mall, which welcomes more than 20 million visitors a year, is the world's largest themed mall. It already boasts over 400 shops, restaurants and leisure facilities including a 21-screen Novo cinema complex and a Fun City family entertainment zone. Another 500 stores, a second cinema complex, a further hotel and a new multi-storey car park are on the way as part of the mall's expansion.
Nakheel's hospitality portfolio features a diverse range of accommodation, including iconic, luxury projects on Palm Jumeirah, all-inclusive beach resorts at Deira Islands and mid-range hotels attached to the developer's major shopping malls.