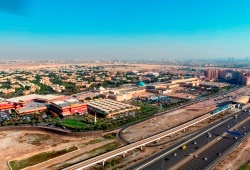 Nakheel unveils 23 million sq ft of new retail, residential and leisure projects across Dubai
Apr 08, 2015
Huge extensions to Dragon Mart and Ibn Battuta Mall. New heart for Deira with 16 towers aside 4.9 million sq ft mall
Nakheel has unveiled a range of new retail, residential and leisure developments for Dubai – with a combined built up area of over 23 million square feet – at Deira Islands, Dragon Mart and Ibn Battuta Mall.
The projects – endorsed by His Highness Sheikh Mohammed bin Rashid Al Maktoum, Vice President and Prime Minister of the UAE and Ruler of Dubai – will bring a host of additional, world-class facilities for shopping, living, business and tourism to Dubai, in line with the Government's 2021 vision.
The new projects are:
a 6.5 million sq ft residential, retail and hotel extension for Dragon Mart that will bring the total size of the Dragon Mart complex to around 11 million sq ft;
a new, 4.7 million sq ft complex at Ibn Battuta Mall, including a one million sq ft mall, new cinema complex, multi-storey car park, hotel and glass-covered courtyard
a 12 million sq ft, 16-tower community at Deira Islands with a 4.9 million sq ft mall, over 2,400 homes and extensive parkland that will become the defining landmark of the Deira area of Dubai.
Enter the new Dragon City
Dragon Mart – already the largest Chinese trading hub outside mainland China – is to be transformed into a giant retail, residential and leisure destination, called Dragon City, with a new, 6.5 million sq ft extension.
The expansion includes a 2.2 million sq ft retail component with nearly 1.3 million sq ft of leasable space including a showroom-style area for events and exhibitions, as well as an integral car park with over 6,200 spaces.
The new Dragon Mart extension also has a two-tower residential component with 1,120 one and two bedroom apartments, and a separate, 250-room hotel.
This new expansion project complements the existing, 2.95 million sq ft Dragon Mart extension which includes a mall, car park and hotel. Dragon City will eventually span 11 million sq ft.

More to explore at Ibn Battuta Mall
Nakheel's Ibn Battuta Mall – the largest themed shopping mall in the world – is to undergo an extension spanning 4.7 million sq ft. The new complex will feature a one million sq ft retail component with 766,000 sq ft of leasable retail space; a new multi-storey car park for 7,000 vehicles and a four-star hotel with around 370 rooms.
The centrepiece of the extension is a 300,000 sq ft courtyard, featuring extensive green landscaping and a retractable glass roof for year-round shopping and dining.
The new extension announced today is in addition to Ibn Battuta Mall's Phase 2 complex, currently under construction and due to open this year, and will bring the total size of Ibn Battuta to more than seven million sq ft

New developments at Deira Islands
Nakheel today announced a 12 million sq ft retail, residential and leisure development that is set to become the heart of the new, four-island Deira Islands waterfront city. Deira Islands Mall, Towers and Boulevard will offer spectacular shopping and luxury living facilities in a self-sustaining community for 10,000 people that includes around 1.7 million sq ft of green, communal parkland.
The complex includes Deira Mall, a new destination development designed to symbolise the modern city of Dubai while reflecting its past, present and future. Deira Mall includes 2.9 million sq ft of leasable space and a car park for more than 8,400 vehicles. The mall will be surrounded by the 16-tower Deira Islands Towers community, comprising over 2,400 apartments and townhouses spread over four clusters. The towers will be built atop four podium retail developments with 670,000 sq ft of leasable space.
Integral to the Deira Islands Towers project is Deira Islands Boulevard, a 400,000 sq ft walkable shopping and dining promenade connecting the residences, mall and parks that make up the development. The Boulevard will have around 120 outlets.