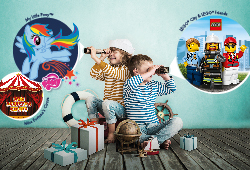 My Little Pony will lead the line-up of entertainment and events at Ibn Battuta Mall this DSS, with 11 days of live stage shows and workshops starting on Thursday, 15 July.
The performances – taking place daily at Ibn Battuta's India Court – will be complemented by a Beauty Corner, where My Little Pony fans can enjoy hair and nail makeovers.
My Little Pony is one of a number of attractions for kids and grown-ups at Ibn Battuta Mall for the six-week 2016 Dubai Summer Surprises festival, which runs from 9 July until 20 August. Budding builders can get busy in the LEGO City workshop, while circus fans will be wowed by live performances of the Miss Fortune Circus.
Ibn Battuta visitors can also win prizes worth a total AED300,000 throughout DSS, with five weekly prizes of AED10,000 up for grabs with purchases of AED300 or more.
Omar Khoory, Director of Nakheel Retail, owner and operator of Ibn Battuta Mall, said: "We are proud to support DSS and are building on the success of last year's event by hosting another exciting collection of attractions at Ibn Battuta Mall. Our customers – whether they are residents of Dubai or tourists visiting the UAE – can look forward to a vibrant line-up of entertainment, events and promotions over the next weeks."
The full range of activities and promotions on offer at Ibn Battuta Mall:
9 July to 20 August (throughout DSS)
Win vouchers worth AED50,000 every week on purchases of AED300 or more (five weekly winners of AED10,000)
Daily from 15 July to 25 July:
My Little Pony live on stage, 5pm to 8pm (India Court)
Beauty Corner, 2pm to 10pm (India Court)
Daily from 28 July to 6 August
Lego City workshop, 2pm to 10pm
Lego Friends workshop, 2pm to 10pm
Daily from 11 August to 20 August:
Miss Fortune Circus, live on stage, 4pm to 9pm (China Court)