Tuesday Oct 18 2022
7 Facial Massage Benefits You Have to Know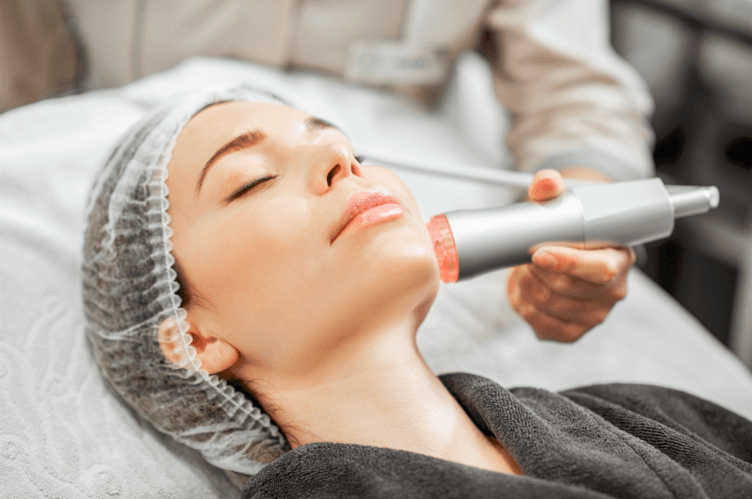 Admit it: An hour of serious facial massage can be your escapade to unwinding after a hectic week. A good facial session can be as relaxing as a sap. Facial techniques used by the top beauty centers in Dubai can stimulate the pressure points on your face, soothe your skin, and aid you to get a perfect complexion. The face massage calms your mind, rejuvenates your skin, and relaxes your face muscle for a firm, smooth, and exfoliated skin. However, before we dive into the facial massage benefits, let's understand a bit about how facials work and what they are.
Different face massage techniques
Facial rollers:

These rolling stone devices have been the best in the traditional skincare game for quite a long. Their smooth rolling effect offers excellent absorption of facial oils and other skincare ingredients applied to the skin. With their rolling effect, these rollers target to reduce skin puffiness as well as inflammation.

Vibration

: This is a massage method that helps soft tissues heal. It aids in muscle relaxation.

Cupping:

To induce suction, specific cups are placed on the skin in this technique. It is performed to open up blood vessels, reduce discomfort, and relax your muscles.

Cold or warm stones

: This technique is used to relieve pain and loosen stiff muscles.

The Tapping-Tapping massage technique

Stimulates nerves to energize the nervous system while relaxing tense muscles.

Knuckle kneading

:

This technique uses strong pressure to penetrate deeper layers of skin and get to the tissues underneath. This method is frequently used to loosen up tight muscles, improve flexibility, and lessen pain.
Types of Face massage
The most popular type of massage is Swedish. It involves applying gentle, folding strokes to the muscles' topmost layers, which is both calming and stimulating.

Shiatsu, which translates to "finger pressure," is a form of bodywork in which the therapist applies varying degrees of pressure to various body spots. Blockages in the muscles are released with the aid of this massage.

Remedial massage acts as a healing procedure to soothe achy, injured, knotted, or impaired muscles. It enhances general wellness by unwinding the body's stiff muscles.

Acupressure is a specific type of massage that works to reduce pain, relax the muscles, and improve blood flow throughout the body.

Gua sha is a type of massage that works to loosen up tight muscles and encourage tissue drainage by rolling a quartz stone or a jade stone upwardly over the skin.
Benefits of facial massage
#1 Reduce the signs of aging

Face massage not only improves skin suppleness and tones facial muscles, but it also slows the aging process and minimizes wrinkles. Massages for the face can assist to lessen pigmentation, black spots, fine lines, and wrinkles. It enhances blood flow, which causes a rise in collagen formation that aids in constructing the skin's structure.
#2 Get smooth glowing skin

Did you know that a face massage may keep your skin moisturized and nourished while giving you soft, smooth skin? In just a few weeks, it can improve your skin texture, prevents the skin from drooping, enhance moisturization, and aids in toxin elimination.
#3 Reduce acne and its scars

By draining away impurities, facial massage aids in skin cleansing. Acne is repelled when pores are kept clean. Regular skin massage improves skin texture and complexion, which also lessens the appearance of acne scars. Massage techniques that stimulate the skin may aid in enhancing blood flow and minimizing the appearance of acne. There is a dearth of specific data showing how facial massage might reduce acne.
#4 Brighten complexion
Face massage increases blood flow, which promotes healthy, younger-looking skin. Well, the increased blood flow also contributes to skin that is more even toned and radiant. A healthy flow of oxygen and adequate blood circulation improves the appearance of your skin and gives it a healthy glow. It promotes the health of skin tissues, encourages cellular renewal, and stimulates regeneration, which makes your lifeless skin sparkle.
#5 Detoxify your skin

Your skin may appear dull due to pollution and filth, but a face massage can help to purify it. If you want to give your skin a little more TLC (treatment, love, and care), use a moisturizing skincare product. Removing the product buildup, will clean the skin of debris, oil, whiteheads, blackheads, chemicals, etc., and open up the pores. The pollutants on the face can be removed, and the skin kept clean and healthy by gently rubbing it.
#6 Relieve tension

Do you realize how much strain individuals carry on their faces? Your forehead and eyes tend to stiffen up when you're anxious or exhausted, which will cause wrinkles. The stress in your face can be relieved and kept under control with a face massage.
#7 Relieve pain

Face massage has several health advantages, including relieving pain and promoting skin healing, in addition to lowering tension and giving you soft, smooth skin. The facial muscles can be affected by stress, worry, and headaches, but a quick face massage can assist to relieve the pain and stiffness of the muscles.
Conclusion


If you are ready to embrace the facial massage benefits, feel free to book an appointment at the best beauty salons in Dubai. Facial massages can be a wonderful way to give yourself some rejuvenation while treating specific skin concerns. Enjoy the process and the after-effects. Just ensure to consult the right skin experts and treat your skin with facial massage treatments tailored to your specific needs.