Thursday Aug 25 2022
Best Seafood Restaurants in Dubai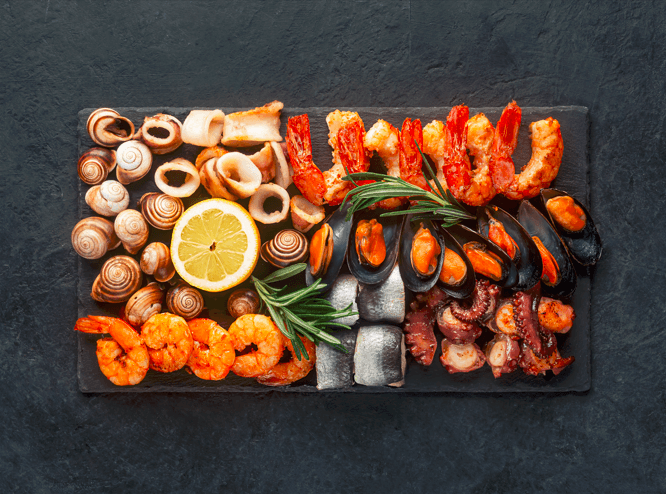 Dubai is well known for its pristine beaches, incredible sky-rise buildings, and delicious food. Located right on the coast, Dubai has amazingly fresh fish and unbelievable dishes to complement them. Seafood lovers find that this city is the right place for their appetites.
If you're looking for some of the best seafood restaurants in Dubai - we've got you covered. For a fin-tastic, new, and exciting seafood experience, head to Ibn Battuta and try our top-notch seafood spots.
Tap into the far corners of the world and the deep blue sea, right from the heart of Dubai. Here are the top seafood places in the city to check out.
Off The Hook
Playing with your food has a new meaning at Off the Hook. Discover a dining experience that embodies "healthy, fun, and delicious".
Off The Hook offers authentic, mouth-watering Louisiana-style cuisine in its most natural form. They're most well known for their classic seafood boils, made from the freshest ingredients and produce, complemented by a distinctive blend of sauces.
As you step in, you'll be welcomed into a warm, laid-back atmosphere, a casual home away from home. Grab a table with your closest friends or family here, and be prepared to dive in and eat with your hands! Order the OTH sauce alongside your favourite seafood to tickle your taste buds.
On top of being one of the most unique eateries you can find in Dubai, the service is unmatched. You'll be sure to leave satisfied and looking forward to more.
Verdura
Mediterranean seafood dishes are truly unmatched! Verdura proves it with each delicious seafood meal. This spot is worth visiting if you're looking for a fresh take on seafood.
Veruda offers a blend of Mediterranean cuisine inspired by Greek, Italian and Levant cuisines. For a delectable meal that takes you to the Greek islands, the famous Lebanese beaches, and even the Italian riviera, this is the perfect place.
Calling Verdura a good seafood restaurant in Dubai doesn't even cover it. You can order a beautiful blend of seafood and non-seafood dishes. Make sure to order the seafood antipasti, garlic clams, or grilled tiger prawns. Dip your toes into the gentle Mediterranean without stepping out of the city.
Reconnect with nature from the moment you sit in this gorgeous setting. Your experience will be in perfect imitation, complete with Mediterranean trees as centrepieces and iconic architecture and detail.
For a breezy summer day by the Mediterranean shoreline, grab some friends for lunch and dive into a one-of-a-kind experience. Verdura isn't just a good restaurant, it's truly one of the best seafood restaurants in Dubai.
Tony Roma's
He likes streaks; she likes seafood. What do they do? Look no further than Tony Roma's! Satisfy every person's taste with steak and seafood united under one roof.
Tony Roma's is a casual dining eatery that offers several beloved steak and seafood dishes. With four decades of experience and numerous locations worldwide, this restaurant is highly esteemed in the industry.
Tony Roma's Southern spin on seafood will spark your senses and keep you coming back for more. For the seafood lover, order the Famous Kickin' Shrimp - their iconic seafood dish. Even though their Baby Back Ribs was the signature dish that shot them to stardom, their seafood dishes can blow any steak out of the water.
Take a stroll into the China court, and enjoy a polished-casual dining experience with family or friends. At the end of the meal, you'll leave full of delicious food and lovely memories (maybe even a future reservation).
Royal Orchid
After dabbling in the Americas and Mediterranean, it's time to venture off to the Far East. Asian cuisine offers a delightful range of seafood dishes that will blow your mind, and Royal Orchid does precisely that and more.
This award-winning restaurant serves a meticulously crafted menu of robust yet delicate flavours from Thailand, China, Japan, and other nooks of the great Far East. For the curious and adventurous eaters alike, any one of their seafood dishes is sure to impress.
You can find many of the region's signature dishes on the menu, such as the Royal Asian Duck Salad. Go through and order from a whole set of exciting dishes you might have never heard of!
After your meal, sip on a delightful in-house drink; we recommend the watermelon. A gentle dance of fresh fruit after the exotic flavours of Asian cuisine - it's a party for your taste buds.
If you are in the mood to try out something new, drop by! You cannot go wrong with Royal Orchid, one of the top seafood restaurants in Dubai, for a group evening out or a quaint dinner.
The Deep-Sea Culinary Dive
20,000 leagues under the sea, and you can't get a better seafood dish than at these spots.
Set out on a culinary dive at Ibn Battuta to experience the best seafood restaurants in Dubai. Each restaurant offers a beautiful variety of seafood, and even non-seafood dishes, for an overall fantastic experience and meal.
After a lovely meal at each of these spots, you'll have a hard time waving goodbye. Make sure to drop in and enjoy the best seafood meals in town!