Tuesday Mar 28 2023
Traditional Iranian Food You Have to Try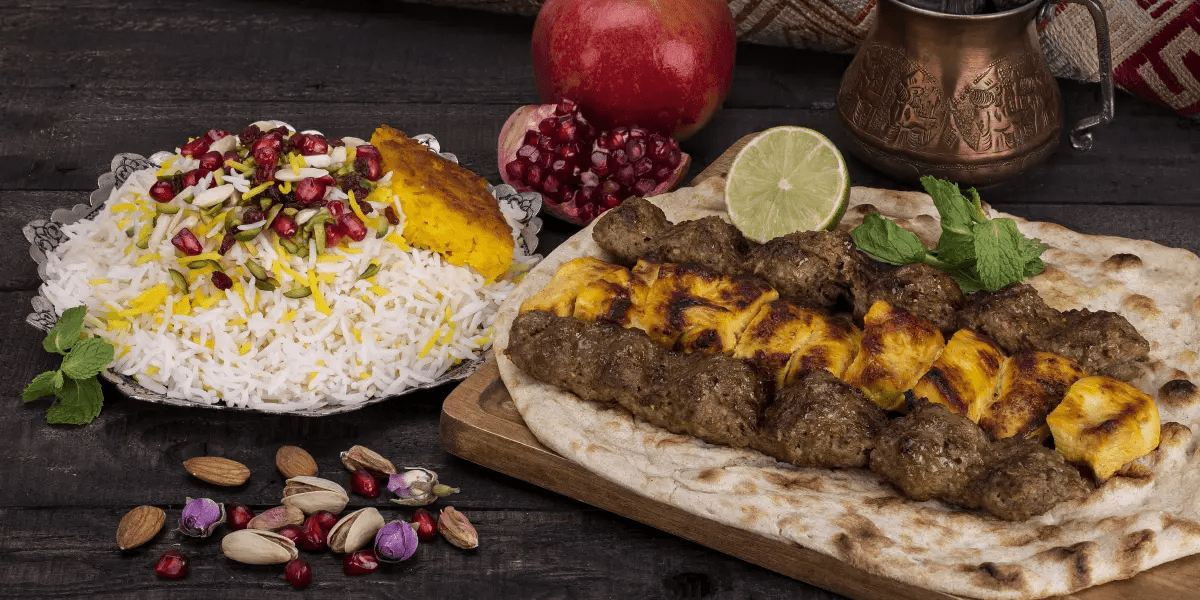 Iran, also known as Persia, has a rich culinary history that spans thousands of years. The country's diverse geography and culture have significantly influenced its cuisine, resulting in various delicious dishes that are popular both in Iran and abroad.
To expand your gastronomic horizons, taste the flavours of Iran - whether you're in Dubai or elsewhere. Among plenty of excellent, traditional dishes, here's our recommended list of Iranian food to try as soon as possible.
Kebab
This is one of the most popular dishes in Iran - and a staple at most restaurants and street food vendors. This incredibly flavourful dish is made by marinating meat (usually lamb, beef, or chicken) in a mixture of spices and then grilling it over charcoal.
Kebab is often served with rice, grilled tomatoes, herbs and spices - or in a sandwich with the same ingredients. It is a dish you should try, no matter where you are.
Ghormeh Sabzi
Ghormeh Sabzi is a traditional stew made with various herbs and vegetables, including parsley, cilantro, leeks, and fenugreek. The stew is typically made with lamb or beef and is slow-cooked for several hours to develop a rich and complex flavour. Ghormeh sabzi, the beloved national dish of Iran, is often served with fluffy white rice to complete this comforting and hearty meal.
Fesenjan
This is one of the most traditional Iranian foods. It is a thick stew made with ground walnuts, pomegranate molasses, and various spices. The stew is usually made with chicken or duck and is slow-cooked for several hours to develop a rich and complex flavour. As the temperature drops every winter, Fesenjan is a widely cherished dish that pairs perfectly with rice.
Dolmeh
Did you know that popular Arabic dishes can also be found in Iranian food culture? Dolmeh is a type of stuffed grape leaf typically filled with rice, herbs, and sometimes ground meat. The stuffed leaves are then steamed or boiled until they are tender. It's a popular appetiser or side dish found at most Iranian restaurants. Let's be honest; its flavour is unmatched.
Ash-e-Reshteh
Are you a fan of noodles? Then you'll definitely like this dish. Ash-e-Reshteh is a thick and hearty soup made with various herbs, legumes, and noodles. The soup is typically made with chickpeas, lentils, and kidney beans and is garnished with fried onions, mint, and yoghurt. Celebrated in Iranian culture, Ash-e-reshteh is a delectable dish that warms up dinners during colder months. This savoury soup is typically taken as the main course of any meal.
Sabzi Polo
If you're a fan of rice, then Sabzi Polo is the dish for you! This traditional Iranian side combines fragrant herbs with saffron and spices to create an aromatic experience. And the best part? The nature of this flavourful dish changes as new ingredients become available each season. Serve it alongside fish or chicken for a meal that will delight your taste buds!
Chelo Kebab
If you know Iranian food, then you've probably heard of Chelo Kebab. It is - without a doubt - the most popular food in Iran.
This is a classic dish of grilled meat served with saffron rice that has mouthwatering, beautiful and refreshing colour. The meat is usually a combination of ground beef and lamb mixed with onions, lemon juice, butter and spices.
Biryani
Biryani is a well-known dish in India. However, its heritage actually stems from Iranian culture. This dish is made of meat and rice cooked with saffron, spices and sometimes yoghurt or tomato sauce. Biryani is often made with lamb or chicken and is a popular dish for special occasions.
Tahchin
At first sight, you would think it's a cake, but it's not. Tahchin is a famous Iranian dish that is characterised by its beautiful appearance. This popular Persian dish is made from saffron-scented rice, yoghurt, and egg and is often filled with meat, chicken, or fish that are put between two layers of rice.
Zereshk Polo
If you ever find the opportunity to dine at an Iranian restaurant, it would be a mistake to miss out on this delectable traditional dish - consisting of succulent chicken or lamb accompanied by fragrant rice cooked with barberries and saffron. This is one Persian experience your palate won't soon forget!
Hatam Restaurant
If you're looking for Iranian food in Dubai, Hatam Restaurant is the spot for you. This popular restaurant, located in Ibn Battuta Mall, serves the most incredible Iranian food in Dubai. With its talented chefs, brilliant techniques and fresh and original ingredients, it is considered one of the best Iranian food restaurants in Dubai. Whether you are a tourist or resident, you gotta stop by, someday.
If you're looking for an unforgettable culinary experience, then it's time to explore the vibrant flavours of Iranian cuisine! Dive into a delightful blend of sweet and sour from dishes full of herbs, fruits and nuts. To make sure you get the most out of your meal, remember to accompany it with either traditional Irani tea or strong coffee- both will guarantee a satisfying dinner!