Friday Nov 11 2022
Why Spas are Great for Healthy Skin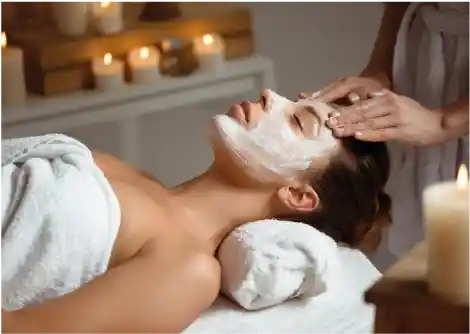 Maintaining a consistent and healthy skincare routine is tedious for most. Whether you're a skincare enthusiast or weaning away from bar soap, it's easy to seek a hundred different skincare tips but fail to put them to practice. Although we aspire to have flawless and healthy skin, we're either inconsistent with our skincare routine or unsure where to start.
Everyone dreams of glowing skin. And besides drinking plenty of water and eating healthy, it's essential to have a good skincare routine catered to you. However, it's sometimes overwhelming to maintain a routine when you live a busy life. Why not treat yourself to a spa day? At Ibn Battuta Mall, there are plenty of beautiful spots to check out for a day of pampering or a long-needed refresh.
Let's dive into the benefits of spas and how they're a great way to get healthy skin.
The Benefits of Spas and Skincare
Having a good skincare routine ensures a lifetime of healthy skin. Facial massages, spa treatments, and face care tips for women contribute to beautiful skin. The following points highlight the importance of skincare and facials:
Maintaining clear skin:

We shed skin cells throughout the day; thus, having an effective routine and going for regular spas and facials helps prevent acne, wrinkles, and dark spots. The

best spas in Dubai

offer all the services that your skin desires.

Youthful skin:

with age, skin cells turn over slowly, which results in duller and less radiant skin. Skin care tips can help remove dead skin cells and replace them with newer ones, thus, giving life to youthful skin.

The earlier, the better:

Prevention is always better than cure. Maintaining a routine for your skin from an early age helps prevent skin problems later. Thus, with a proper routine and regular visits to the spa, you can maintain healthy skin for a lifetime.

Confidence booster:

Clear, smooth, and radiant skin is an automatic confidence booster. So, wear your skin with confidence with regular facials and massages.
Healthy Body Skincare
Healthy skin isn't just limited to your face. Your skin is the largest organ in your body, and to neglect 90% of it would be such a shame. Getting scrubs, massages, even going for a wax can make such a difference for your skin. It's important to consider your skin type and environment when picking a service that best suits your needs.
Every part of your body deserves to be taken care of, and one part we often overlook is our nails. It's always great to get a proper manicure and pedicure as often as once a week. If you're asking "what is a manicure and pedicure?", then you've come to the right place.
Long story short: a manicure is the care of a person's hands, and a pedicure is the same thing for the feet. This includes getting rid of dead skin, shaping your nails, and even getting lovely nail art. Besides having a good skincare routine and regular spa visits, it is also necessary to take a good look at your nails. Beautifully manicured nails give a cutting edge to your personality, and are a great part of self-care.
Whether you want to get nail art or a good long massage for your feet to release all your tension and worries of the week, there are wonderful spots at Ibn Battuta Mall that cater to your needs and leave you feeling rejuvenated inside out.
A Spa a Week Makes Skin Problems Weak
In this ever-growing capitalistic world, we often fail to engage in self-care, resulting in various skin problems and unkempt hair and nails. But taking care of yourself is as crucial as earning and looking after your family. Your body is yours to keep, and you cannot ignore what it needs. Like ready-to-cook meals and fast food centres, self-care has become easier with some of the best spas in Dubai that only care about pampering you and making you feel special.
Ibn Battuta Mall offers a host of spas and salons that pledge to melt away suck out all the week's worries and leave you feeling light and happy. Spots from N.Bar to Mirrors Beauty Lounge are committed to making their customers feel rejuvenated, stunning, and confident. With a hospitable staff, a range of massage therapies, a professional approach, and high-end beauty treatments, the salons and spas available are an all-in-one package to invest in for a solid self-care experience. All you need to do is visit these salons and give in to the magic that unravels following the sessions
Healthy Skin Awaits You
The road to acquiring healthy skin can be difficult with a busy schedule. At Ibn Battuta Mall, you can access salons and spas that offer incredible services to help you enter a world of pure bliss.
Take the day off and book your appointment at your go-to self-care spot for an incredible pampering session.