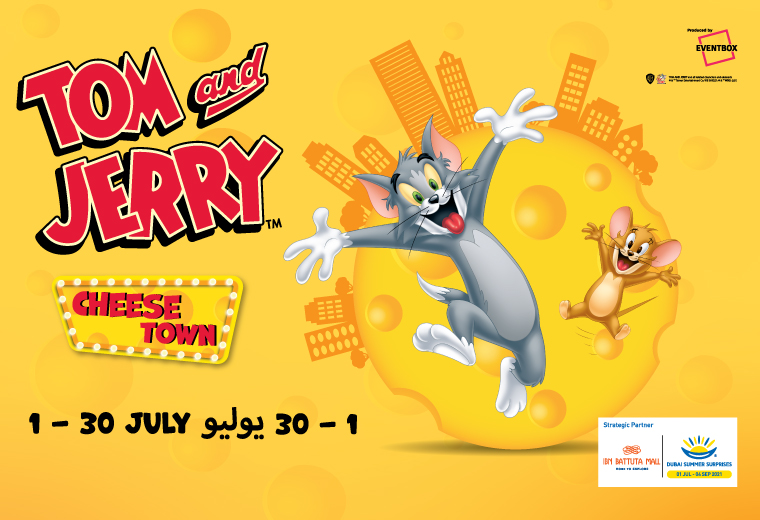 Get ready for explosive action at the Tom and Jerry Cheese Town Experience this DSS at Ibn Battuta Mall!
Jul 01-Jul 30, 2021
Ibn Battuta Mall is inviting visitors this Dubai Summer Surprises (DSS) to step into the world of legendary cat and mouse duo, Tom and Jerry, at the Tom and Jerry Cheese Town Experience. The number 1 viewed cartoon in the UAE will deliver a 30-day, on-ground activation featuring daily activities from 1 to 30 July from 12:00 noon to 9:00pm.
The Tom and Jerry Cheese Town Experience, brought to you by Ibn Battuta Mall in partnership with Warner Bros. Consumer Products EMEA (WBCP EMEA), in association with Shooting Stars, its Middle East licensing agent and EventBox, aims to engage fans by bringing their childhood memories to life. Tom and Jerry is a 7-time Oscar Award winning duo and has carved a reputation as an all-time favourite for people of all ages.
The Cheese Town, at Ibn Battuta Mall's India Court, will wow Tom and Jerry fans through an engaging history and evolution feature with original artwork, sculptures, meet and greets, photo opportunities and live music.
Journey through the cat and mouse duo's universe and discover famous areas as seen in the cartoons such as The Kitchen Illusion Space, The Interactive Study, The Living Room Illusion and Jerry's Home as well as a mini expo and art gallery. Plus, visitors will have the chance to meet Tom and Jerry through a unique meet and greet opportunity during weekdays (Mon-Wed) until 30 July. Tom and Jerry clips will be displayed on a large screen while a live mini orchestra plays the music and sound effects to the iconic cartoons with six performances daily, from 1 to 10 July between 1:30pm and 8:30pm.
Terms & Conditions:
From July 1 to July 30, spend 200 AED, excluding Supermarkets, Banks/Transfer agencies & Services,
To receive pass codes for Cheese Town and Meet & Greet (adhere to Meet & Greet Schedule).
Return/Exchange will not be accepted on participating and stamped receipt/s.
Valid identification and participation SMS must be presented to enjoy the Experience.
Terms & Conditions apply, to view click here.