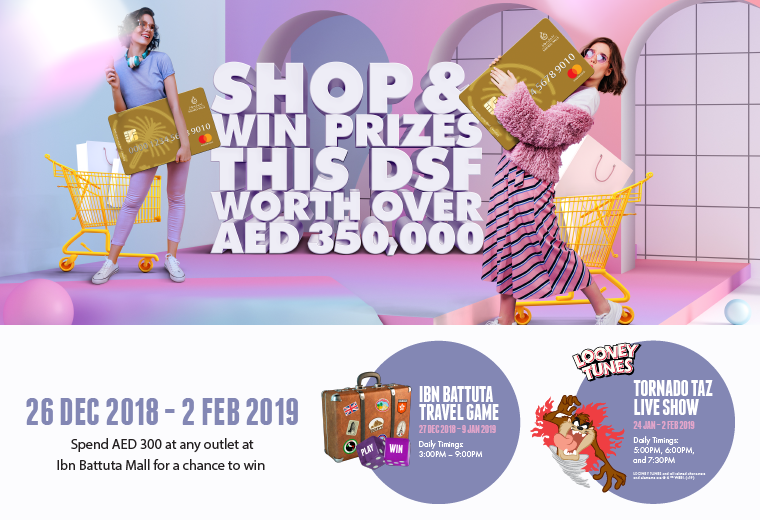 Ibn Battuta Mall to give away prizes worth over AED350,000 this Dubai Shopping Festival
Dec 26-Feb 02, 2019
Looney Tunes' Tornado Taz, travel games, roaming parades and lots more planned for the annual retail festival
We are bringing the best of the Dubai Shopping Festival (DSF) to visitors from 26 December 2018 to 2 February 2019, with an amazing showcase of entertainment and live performances including the popular Ibn Battuta Travel Game, Looney Tunes' Tornado Taz, roaming parades and great prizes.
Shoppers can win exciting prizes worth over AED350,000 in total in the form of the recently-launched Nakheel Malls Gift Card when they spend AED300 at any outlet at the mall.
Enjoy a fantastic retail experience with special DSF deals, offers, and promotions as well as family-friendly entertainment and activities, including:
Ibn Battuta Travel Game: 27 December to 9 January, India Court
The Ibn Battuta Travel Game is back to take guests on an epic journey based on the exotic travels of famed Arab explorer Ibn Battuta. The life-size installation of the game at India Court is open from 3pm to 9pm every day from 27 December to 9 January.
Shoppers who spend AED300 at the destination receive a token that entitles them to play the interactive game once a day. The winner receives a Nakheel Malls Gift Card worth AED300 and enters the weekly and grand prize draw automatically.
Looney Tunes' Tornado Taz: 24 January to 2 February, China Court
Everyone's favourite Looney Tunes character is back with a bang! Taz's tornado will be created on a special stage with sound and lighting effects so children can watch him travel around the world. The Tornado Taz show is live at China Court from 4pm to 8pm every day from 24 January to 2 February.
Ibn Battuta Mall will also come alive with roaming entertainment shows by Dubai Tourism, including the Dancing Robots (27 December to 2 January); Mardi Gras Parade (3 to 9 January); Butterflies Dance (10 to 16 January); and The Flowers Parade with music (17 to 23 January).