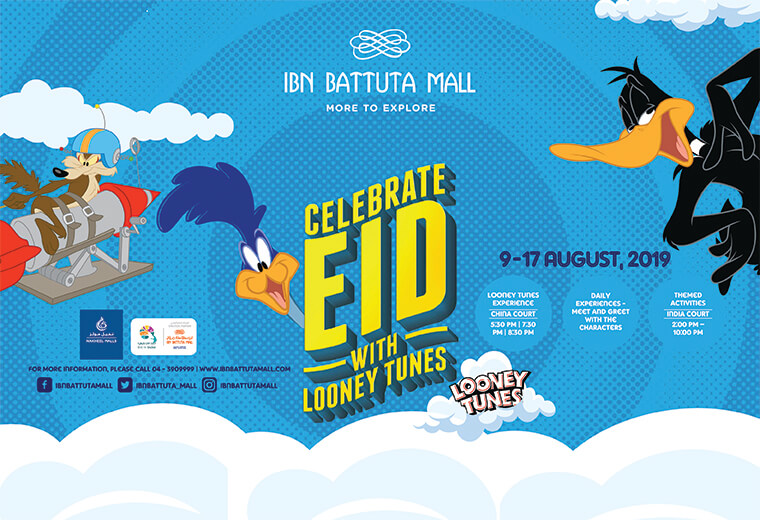 Looney Tunes, kids' activity zone, roaming parades and more at Ibn Battuta Mall this Eid Al Adha
Aug 09-Aug 17, 2019
Meet your favourite characters and join a magnificent Steam Punk Parade from 9 to 17 August
We are hosting a range of delightful family entertainment and live shows to mark Eid Al Adha celebrations in Dubai from 9 to 17 August. Enjoy live stage shows, roaming entertainment and kids' activity zone with non-stop fun with your favourite Looney Tunes characters.
Looney Tunes: 9 to 17 August, China Court
Eid festivities begin with Looney Tunes characters live on stage, with performances by the adorable Wile E. Coyote, Road Runner, Elmer Fudd and Daffy Duck.
Laugh along with these best-loved characters and cheer them on as they compete in a hilarious dance-off, followed by a meet and greet session after every show.
Timings are 5.30 pm, 7.30 pm and 8.30 pm daily.
Looney Land kids' zone: 9 to 17 August, India Court
Get creative at the Looney Tunes-themed zone with a host of cool games and activities. Let Bugs Bunny teach you a thing or two about arts and crafts or go on a merry chase with Wile E. Coyote.
Timings are 2 pm to 10 pm daily.
Steam Punk Parade: 12 to 14 August
Crank up the excitement with Steam Punk Event 2019 Dubai Parade featuring retro-futuristic costumes, props and stilt walkers that touring all six courts at Ibn Battuta Mall.
Timings are 5 pm, 6 pm, 8 pm and 9 pm daily.
Visit us for a world of entertainment and fantastic retail offers this Eid Al Adha.