Thursday Aug 17 2023
Discovering Vietnamese Cuisine: A Culinary Journey in Dubai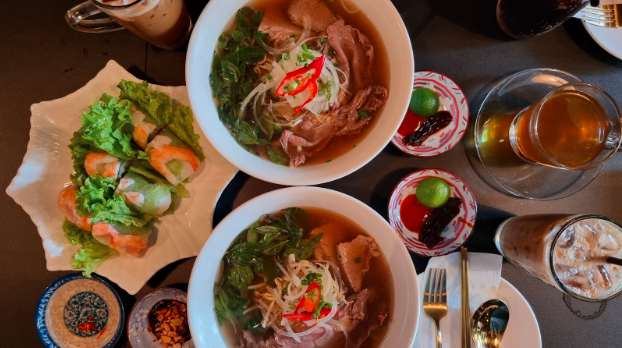 Vietnamese cuisine is making its mark in Dubai. Its unique flavours, fresh ingredients, and rich history offer an exciting and satisfying gastronomic experience. With its delicate balance of sweet, sour, salty, and spicy, this cuisine has captured the hearts and palates of food lovers worldwide. Its appeal lies not only in its delicious taste but also in its health benefits, as Vietnamese food is known for its use of fresh ingredients and minimal use of oil.
Whether you're a resident foodie, a curious tourist, or a Vietnamese expat yearning for a taste of home, Dubai's culinary scene has something for everyone. If you're a beginner in Vietnamese cuisine, this article is just for you. Read on for a journey through the delights of Vietnamese cuisine and insights into the culture and traditions that have shaped this unique cuisine.
The Rich Tapestry of Vietnamese Food
Vietnamese cuisine is a testament to the country's rich cultural history and geographical diversity. It's a delightful blend of flavours, textures, and colours that reflect the country's regional differences. Here are some regional highlights:
Northern Vietnam
A comforting pho - noodle soup with a hearty broth, soft rice noodles, tender meat, and fresh herbs - finds its roots in Northern Vietnam. The region's cuisine is known for its subtle flavours of seafood, freshwater fish, and various types of rice. The dishes here often feature star anise, ginger, and coriander, giving them a distinctive delicate yet complex taste.
Central Vietnam
This region is famous for its spicy bun bo Hue, a rich and spicy beef noodle soup. The food here is bold and spicy, reflecting the royal cuisine once served in the imperial city of Hue. Central Vietnamese cuisine is also known for its use of lemongrass and chilli, resulting in aromatic and fiery dishes.
Southern Vietnam
Renowned for its sweet treats and use of coconut milk in many dishes, this region's fertile Mekong Delta provides a bounty of fruit, vegetables, and fish, used to create dishes that are often sweeter than those found in the North or central regions. The abundance of fresh produce also means that Southern Vietnamese cuisine is vibrant and colourful, with dishes often featuring a variety of vegetables and herbs.

Balance: The Heart of Vietnamese Cuisine
One of the key aspects of Vietnamese cuisine is its emphasis on balance. The "yin and yang" principle is applied to its dishes, ensuring a balance of flavours and ingredients. This balance is evident in the country's most famous dish, pho, which creates a symphony of comforting and invigorating flavours.
Vietnamese cuisine also focuses on the dish's balance of textures and colours. A typical Vietnamese meal will include soup, protein (meat or fish), vegetables, and rice, all carefully arranged to create a harmonious and visually appealing meal.
Exploring the Diversity of Vietnamese Dishes
Vietnamese cuisine is about more than just pho. There's a plethora of other dishes that are equally delightful. Here are a few examples:
A Vietnamese sandwich fusion of Vietnamese and French influences. The baguette, pâté, and mayonnaise reflect the French influence, while the pickled vegetables, cilantro, and spicy peppers are distinctly Vietnamese.
Fresh spring rolls packed with crisp vegetables and prawns, served with a tangy dipping sauce. These rolls are often served as an appetiser or a light meal and are a healthy alternative to fried spring rolls.
This crispy, stuffed rice pancake - a popular street food item - is typically filled with meat, shrimp, and bean sprouts and is served with fresh herbs and a dipping sauce.
A Hanoi speciality featuring grilled meat served with rice noodles and a tangy dipping sauce. This dish is often served with fresh herbs and a bowl of dipping sauce.
Vietnamese Food in Dubai: A Taste of Authenticity
If you're in Dubai craving the best Vietnamese food, you're in luck. The city is home to several Vietnamese restaurants that offer an authentic taste of Vietnam. From upscale dining establishments to casual street-food-style eateries, there's a place for every taste and budget.
One of the best Vietnamese restaurants in Dubai - and admittedly our favourite - is Madam Pho. Known for its authentic flavours and warm hospitality, Madam Pho offers a wide range of dishes catering to traditional and modern palates. Whether you're craving a bowl of pho, a plate of crispy spring rolls, or a refreshing glass of Vietnamese iced coffee, Madam Pho has got you covered. Enjoy the flavours of Saigon and beyond from just around the corner.
A Final Word: Embrace the Vietnamese Culinary Journey
In conclusion, Vietnamese cuisine is a culinary treasure that is worth exploring. Its unique flavours, fresh ingredients, and balanced dishes offer a dining experience that is both healthy and satisfying. The next time you're in Dubai, embark on a culinary journey through Vietnam's best at Madam Pho.
You can explore our comprehensive guide on types of cuisines worldwide for more information (and inspiration).