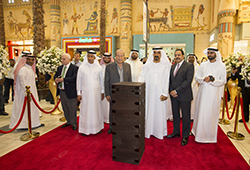 60 new shops and restaurants at Ibn Battuta Mall as Nakheel officially opens 300,000 sqft extension
May 18, 2016
60 new shops and restaurants at Ibn Battuta Mall as Nakheel officially opens 300,000 sqft extension
Dubai developer completes first phase of massive expansion at world's largest themed mall
Nakheel Chairman Ali Rashid Lootah today officially opened a 300,000 square foot extension at Ibn Battuta Mall in Dubai, marking the completion of the first phase of a huge expansion at the world's largest themed retail complex.
The extension adds 60 new shops, restaurants, cafes and services to the mall – which currently welcomes 20 million visitors a year – and brings the total number of outlets to almost 400. Among the new stores are Decathlon, United Furniture, Marks & Spencer, Under Armour, Iconic, Superdry, Jashanmal and Paul, as well as expansions to Homes R Us, which now spans two levels, and Paris Gallery.
The expansion is the springboard for a series of subsequent extensions that will transform the existing Ibn Battuta complex into a giant retail, entertainment and leisure destination spanning seven million sq ft.
A two-storey link connecting the mall to Ibn Battuta Metro Station is also due to open in the next few weeks, bringing another 90 outlets including a 24 hour food court, and Ibn Battuta's first hotel – a 372-room Premier Inn – is scheduled to open later this year. These will be followed by another 4.7 million sq ft development – to be constructed over the next three to five – comprising a mall with a glass-covered courtyard, a new cinema complex, a multi-storey car park and another hotel.
Nakheel Chairman Ali Rashid Lootah said: "Today's opening is a significant milestone for Ibn Battuta Mall and Nakheel's retail business, which continues to grow in line with our company strategy. This extension, coupled with the soon-to-open Metro link and subsequent expansions at Ibn Battuta, cements the mall's position as one of Dubai's biggest, most popular destinations, and reinforces Nakheel's position as a major force within the Dubai retail sector."
Set on a 5.6 million sq ft site, the 1.2 km long Ibn Battuta Mall is themed around the travels of renowned 14th century Arabian explorer, Ibn Battuta. The mall has six individually-designed zones named after and featuring architecture to reflect the most influential places he visited. The extension follows the same architectural theme as the original mall.
Celebrations at Ibn Battuta continue until 4 June, with weekend family entertainment including an Archaeological Dig featuring an ancient exploration playground; traditional Indian, Persian and Egyptian dance performances; and a Great Mystery Hunt. For full details and timings, see local press, call 04 390 9999 or visit www.ibnbattutamall.com