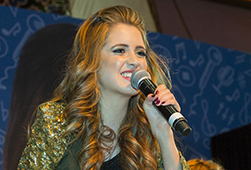 Disney Channel's Laura Marano, Ben 10 and Sonic the Hedgehog among DSS line-up at Ibn Battuta Mall
Jul 30, 2015
Kids' TV favourites, interactive games and AED50,000 voucher prizes at Nakheel's flagship mall
Nakheel has lined up some of the world's most popular children's TV characters – including Disney Channel's Laura Marano, star of the Austin & Ally show and Cartoon Network's Ben 10 and The Powerpuff Girls – as part of Ibn Battuta Mall's entertainment programme for Dubai Summer Surprises 2015.
World-famous video game character Sonic The Hedgehog also features in this year's DSS line up at Ibn Batttuta, along with a host of other activities, promotions and prizes. Events run from now until 5 September, 2015.
Omar Khoory, Director of Nakheel Retail, said: "After a very successful Eid al Fitr, which saw record numbers of visitors to Ibn Battuta, we are now in full DSS mode. This is one of the most important events in Dubai's retail calendar, and Ibn Battuta Mall is proud to support the event by hosting such a unique range of attractions and promotions over the next six weeks."
Ibn Battuta Mall will also give away vouchers worth AED300,000 – including a weekly grand prize voucher for AED30,000 – during DSS. Simply spend AED250 at the mall for the chance to win.
The fill line up of DSS entertainment at Ibn Battuta Mall:
30 July – 5 August:
Ben 10 stage show (China Court), daily at 5.30pm; 7.30pm; 9pm
Ben 10 Meet and Greet, after every show
The Powerpuff Girls Meet and Greet (China Court), daily at 4.30pm; 6pm; 8pm
6 August
Disney Channel's Laura Marano, the American actress who plays Ally in the series Austin & Ally, will be live in concert at 5.30pm at China Court. The half hour show will be followed by a Meet and Greet session with the star. Austin & Ally, now in its fourth season, has been running since 2011.
August to 29 August
Various children's activities and shows
​30 August to 5 September
Sonic the Hedgehog Meet and Greet and interactive games.
Ibn Battuta Mall is themed around the travels of renowned 14th century Arabian explorer, Ibn Battuta. Already the world's largest themed shopping mall with more than 300 shops and restaurants, the mall is being expanded to create a giant retail and entertainment complex with over 1,000 shops, two multi-screen cinemas and a huge courtyard with a retractable roof that can be opened in Dubai's winter months.