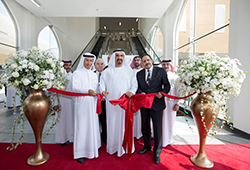 Nakheel completes AED135 million Ibn Battuta Mall expansion with official opening of Metro link
Nov 24, 2016
Developer on track for further growth in Dubai's retail sector
A new link connecting Ibn Battuta Mall with the Dubai Metro was officially opened today by Nakheel Chairman Ali Rashid Lootah, marking the completion of an AED135 million expansion at the world's largest themed shopping mall.
The Mall-Metro link is the second element of Nakheel's Ibn Battuta phase one expansion, which also includes a 300,000 sq ft extension to the mall that officially opened earlier this year. A second, 4.7 million sq ft expansion, is under way.
The two-storey, 210 metre walkway means Dubai Metro and bus users can now directly access the mall and its 400 shops, restaurants and attractions. The link itself features 90 new retail and dining outlets including a food court – the second at Ibn Battuta Mall – with around 20 restaurants.
Ali Rashid Lootah, Nakheel Chairman, said: "Today marks yet another major milestone for Nakheel and its rapidly-growing retail development portfolio. We continue to enhance and upgrade our existing malls with new facilities and attractions that benefit customers and retailers, while at the same time delivering a new and diverse range of retail and leisure developments.
"Nakheel Malls' project portfolio is set to become the largest in Dubai, with more than 17 million square feet of leasable space in operation or in the pipeline."
With more than 20 million visitors a year, Ibn Battuta Mall is already one of Dubai's 'must-see' destinations. The Metro link is a natural progression for Ibn Battuta that will inspire more people to discover its stunning architecture, intriguing history and retail offering – and encourage those who would normally use the car to switch to public transport, said Nakheel.