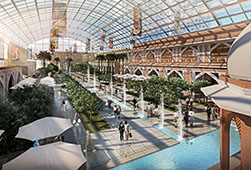 Nakheel marches on with retail expansion as Ibn Battuta Mall extension opens for lease
May 27, 2015
Developer launches another 766,000 sq ft of shop and restaurant space at world's largest themed mall
Nakheel will launch another 766,000 square feet of shop and restaurant space for lease at Ibn Battuta Mall next Monday (1 June), further cementing its rapid expansion into Dubai's retail sector.
Ibn Battuta Mall, already the world's largest themed shopping mall, will feature an extra 600 retail, dining and entertainment outlets in its new, 4.7 million sq ft extension, announced last month.
The extension – the second large-scale expansion at Ibn Battuta – will bring a new, one million sq ft mall, multi-screen cinema complex, multi-storey car park and a second hotel with 370 rooms to the existing development. At its centrepiece will be a 300,000 sq ft courtyard with a retractable glass roof that can be opened in Dubai's cooler, winter months for open-air shopping. The size of four football fields, the courtyard area alone has space for around 80 new shops and restaurants.
Omar Khoory, Director of Nakheel Retail, said: "We are bringing a new shopping experience to Ibn Battuta Mall, enhancing the existing offering to reflect increasing demand. The mall already attracts 52,000 visitors a day and more than 200,000 on its busiest weekends. Our dramatic expansion will transform the area into a huge retail, dining and leisure destination spanning seven million square feet and featuring more than 1,000 shops and attractions in total. This will be a fantastic new facility for nearby residents and the wider Dubai community. In addition, the mall continues to capture motorists travelling between Abu Dhabi and Dubai as it's the first major retail and dining centre on Sheikh Zayed Road for Dubai-bound travellers."
Stretching 1.2km, Ibn Battuta Mall is the world's largest themed shopping mall, highlighting the travels of renowned 14th century Arabian explorer, Ibn Battuta. The mall currently features six individually-designed zones – named after and reflecting the most influential places he visited – with 300 shops, cafes and restaurants.
Nakheel's retail project portfolio is set to become the UAE's biggest, with 10 new large-scale developments and a growing collection of smaller-scale community retail centres on the way. The company has more than 11 million square feet of leasable retail space in the pipeline, adding to the 2.5 million already in operation at its Dragon Mart and Ibn Battuta Mall developments.
For leasing opportunities with Nakheel, visit the Nakheel Sales Centre on Al Sufouh Road, Dubai; call +971 4 390 3333 or log on to www.nakheel.com